Welcome December! 🌲🌲🌲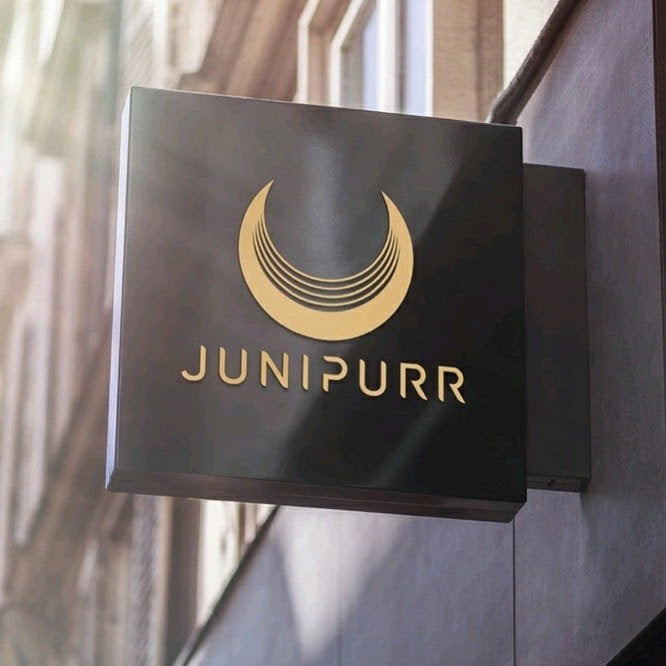 Hi everyone,

I hope you are all keeping well.  Happy December 1st, it's my favourite month of the year!  We had our first big snowfall in Canada a little over a week ago.  Charlotte and Jax were super excited to make their first snowman this winter!  We also took a mini road trip to Niagara Falls for the day to see the Winter Festival of Lights while social distancing with our mask of course.  It was magical and so nice to be explore outside our neighbourhood after so long!   Oh, and I put up our Christmas tree right after Halloween ;)  I LOVE CHRISTMAS!

From a Junipurr perspective, we have been busy on multiple fronts.  We launched 13 new designs that you have previously voted for on our New Arrivals page, a new collection we collaborated with our Pro Team member Ricardo on, a few new features on our website and our apps, and we planted an additional 190 trees, thanks to you for downloading our app.  We also gave away 90 jewelry wands for our first 90 orders made on our app, thank you very much! 

For Black Friday, we ran a fun campaign where you get a chance to WIN YOUR LAST ORDER by tagging a piercer who should start stocking Junipurr Jewelry.  Thank you to all those who participated!  We are overwhelmed by the responses!  We are happy to announce Jose Luis Alamillo Iglesias as our WINNER!  Congratulations Jose!   On Cyber Monday, we ran our HEADSPACE GIVEAWAY campaign where you get a chance to win a 1 year subscription to Headspace by placing an order on November 30th before 9pm EST.  We are happy to announce David Angeles as our WINNER!  Congratulations David!
What we've worked on this month:
New Features on our Website & Apps

Below is a list of features we have launched on our website and apps this month:
1) Automated Returns Process - You can initiate a return by going to this link, by looking up your order, selecting the items you want to return along with the reason and any pics you have.  You will receive an email notification updating you every step of the return process!
2) Notification of low stock - We have implemented a feature where you will now be able to see a notification of low stock next to items that are selling out quickly. 
3) Wish List - Once logged in, you are now able to add items to your wish list from our collections and product pages to review later. 
4) Offers page - You can now find our current offers on our Offers page.  Never miss a sale again!
5) Reorder - You can do this by simply logging into your account, go to Order History and click on the Reorder button next to the order you'd like to repeat.
6) Coming Soon - We have taken your advice and added a Target Launch Date of our Coming Soon pieces.
7) Our Media Kit - We have updated Our Media Kit with a lot more marketing photos you are welcome to use!  Kind reminder you need to be logged in to access this page.

I hope these features will make your shopping easier and more enjoyable!
JUNIPURR JEWELRY STOCKISTS!

I've had quite a few customers reach out to find out which shops currently stock our jewelry.  In response to that, we built a Stockist page on our Junipurr Jewelry website and apps to make their lives easier, and be able to find all of you with just a few clicks!

We have included all shops who have placed 3 or more orders on our Stockist page!  We will be doing a monthly pull of new shops that fit this criteria going forward. :)
Our Caribbean Collection

This one is special to me because I got a chance to work with our Pro Team member Ricardo Miro on something he is very passionate about.  Ricardo is from Puerto Rico and owns PerforArt Percing Boutique.  Ricardo thought it would be meaningful to curate a collection of the 3 most important Taino culture symbols so everyone can carry a piece of Caribbean culture with them.  The Caribbean collection consists of: the Coqui Taino, Cemi Taino, and Sol Taino. They can be purchased individually or as a collection.  
12 Days of Gifting!

We are busy planning our exciting 12 days of Gifting campaign and we can't wait to share more details with you all.  Please stay tuned on our IG/ Facebook!


More Designs

We are planning to launch a few more blingy designs you have previously voted on this month.  Stay tuned for our product drops!
 
Junipurr Curation Tool!

Thank you for all your feedback and encouragement on our Curation Tool.  We are busy developing the tool and can't wait to bring it to life for you all to use!  Stay tuned...
Thank you for your continued support everyone.  I would love to hear from you so email me or IG DM me anytime!   Until then, stay safe, healthy and take care of each other!