7 Tips for Creating Your Piercing Client's Dream Ear Curation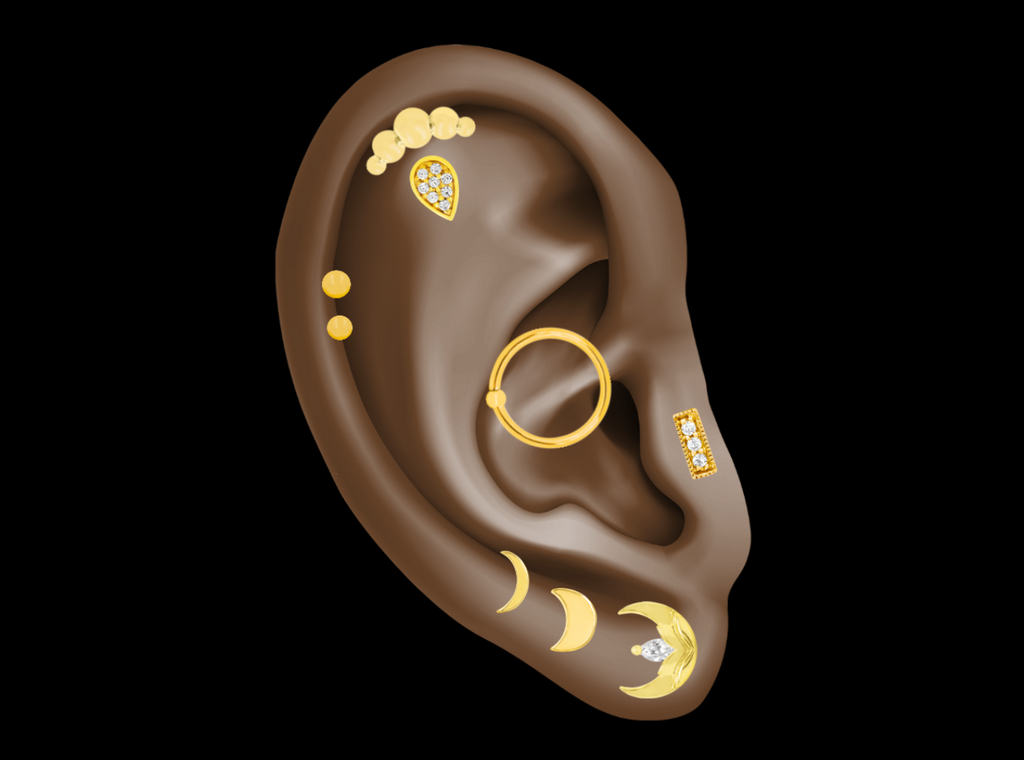 There is something special about a well thought out and curated ear project.  Ear projects are the epitome of a custom look, curated to a client's unique anatomy.  Oftentimes ear projects allow for piercers and clients to collaborate on creating a look that clients may deem only achievable on Pinterest. 
Luckily with the help of skilled Piercing Professionals and in depth initial planning , these custom looks have become more and more popular!

1. Do an initial anatomy check
Each client has their own unique anatomy, especially when it comes to their ears!  Some clients have larger ear lobes and can accommodate more piercings than others.  Some may have a pronounced snug area, some may not.  It all depends on the client, and it's important to know what you're working with when it comes to anatomy! 
If you're currently working virtually or have some time off during the lockdown but want to continue to plan for your studio's reopening, having your clients send photos might be your best bet!

Asking your clients to send you a few clear photos of their ear from different angles will allow you to decipher what piercings will likely work for them, and what sizes of jewelry they may be able to accommodate. 

Although this is not as helpful as an in person consultation, and you will likely still need to do one once you're able to meet your client in person, these photos will help as a great starting point for planning your curation. 


2. Set a budget your client is comfortable with
You can create a cohesive and interesting ear scape on pretty much any budget.  Although it's extremely important to be on the same page as your client when it comes to how much they are comfortable with spending. 
Once you and your client have landed on a budget you'll be able to plan how many pieces of jewelry, what materials, and what gems they can incorporate into their ear project! 
No matter the budget, it is important for your client to wear high quality and implant grade materials to keep their piercings healthy.   We always suggest ensuring that your client wears quality jewelry over a high quantity of jewelry.  You can always add to an ear project as your client is able to afford more piercings and jewelry!

3. Gather reference photos and get to know their personal style
Sometimes a client can say one thing, and mean another.  The best way to avoid miscommunication about personal style is sharing reference photos!  Have your client send you a few photos of piercing placements, jewelry, or juxtapositions of the two that they like. 

This way you'll be able to get a good idea of their preferences when it comes to the colour of gold, if they like titanium, whether they are into gemstones, or more solid options!

4. Take your client's lifestyle into consideration
As we know, some piercings or jewelry styles may not suit every client's lifestyle. For example, if they really like wearing in-ear headphones for long periods of time, they may want to skip out on a conch or tragus piercing.  If your client loves changing their jewelry regularly, maybe opt for a clicker over a seam ring for easy jewelry changes!

These are just small things to consider when curating piercing placement or making jewelry style suggestions.

5. Determine if you're using current ear piercings, or adding additional piercings
New jewelry can really breathe new life into existing piercings!  It's not always necessary to add additional piercings, but it largely depends on your clients goals when it comes to their ear project.

A great place to start is by checking in to see if your client is happy with their current piercings.  If your client is open to additional piercings feel free to make a few suggestions of placements that could compliment their anatomy.  Oftentimes some clients may not be aware of what placements their ears can accommodate, so this is your chance to get a bit creative!

6. Be realistic about a timeline
Some clients may expect an ear project to happen within one appointment.  This can be the case if the curation is based on upgrading jewelry for healed piercings, but oftentimes ear projects may mean more new piercings.
If your client is looking to get multiple piercings, be realistic with them about healing times. 
For example, helix piercings will take longer to heal than the average lobe piercing. Everyone's bodies heal at a different pace, and patience is key!
It's also a good idea to remind your client that some pieces of jewelry are not suitable for fresh piercings, but that you'd be more than happy to upgrade the jewelry once their piercings have had time to heal!

7. Map out your plan virtually (curation tool plug)
This is where the fun begins! We know that having a virtual reference is incredibly helpful to bringing your ideas to life.

With the current covid-19 pandemic, many of us are working from home, doing online sales, or are trying our best to keep in touch with our client's during our studio's closures.

Luckily here at Junipurr Jewelry we have just released our virtual curation tool! This tool will allow piercers to upload a photo of their client's ear, and create a project template using any piece of Junipurr Jewelry.

This is a wonderful tool for bringing your client's dream ear project to life before getting them into your piercing chair. The tool will allow you to resize, rotate, flip and drag jewelry to any placement you wish.  


Once you have your project blue print you can save the image and send it directly to your client for feedback!

We also encourage our client's to use this tool to spark inspiration for their own clients!  As we stated above, sometimes your customer's may not be aware of what jewelry pieces can go in what exact piercings.  Posting your virtual ear curations to social media may just land you a new booking that a client is really excited about!

Check out this awesome curation by @peachespierces done using our app 
We hope that these tips are helpful when planning your next client's custom look.  Be sure to tag us ( @junipurrjewelry ) in any of your virtual curations you share on social media for a chance to be featured on our page! 
---