Welcome November! 🍂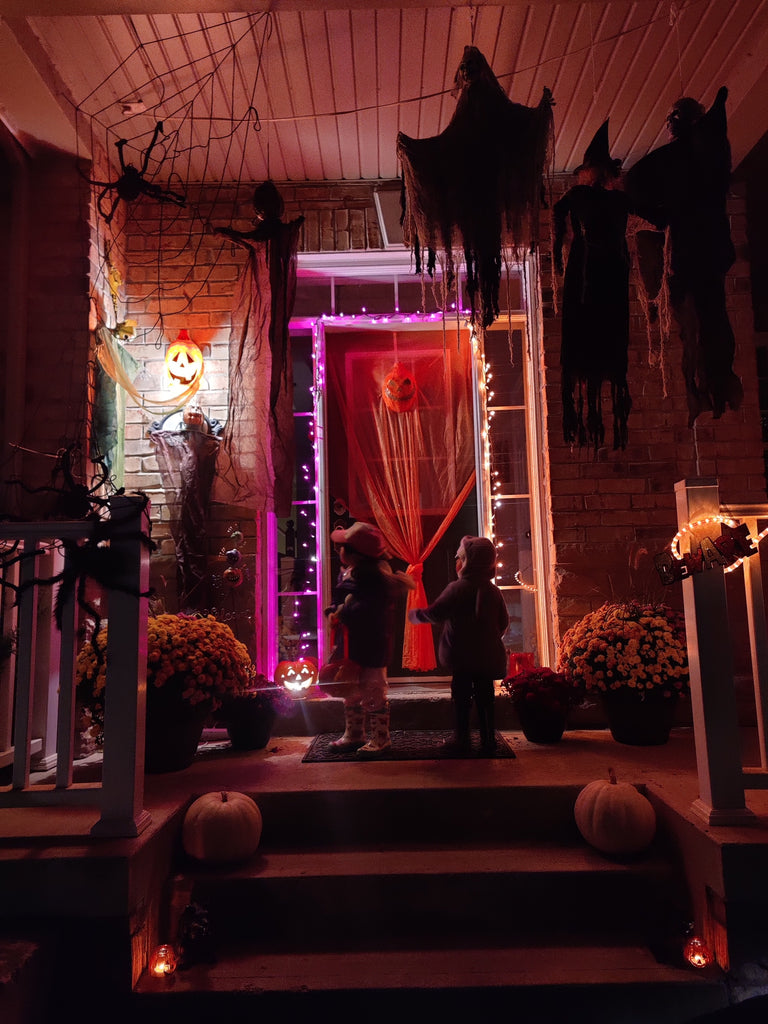 Dear Junipurr Family,

I hope you all had a fun Halloween!  We took Charlotte and Jax trick or treating last night around our neighbourhood, it was so nice to see our neighbours out all dressed up having fun again.  They had such a great time and now they're negotiating their way to getting more than a candy a day!    

From a Junipurr perspective, we have been busy getting our titanium threadless labret posts ready for our Europe launch.  We are just days away from November 5th 2021.  Thank you for your support and participation in our Titanium Giveaway.  If you haven't signed up yet, there's still time!  We also did a major restock worldwide of all of our best sellers and basics.  You can access it on our Restocked page.  Congratulations to Steeve Easley for being our October Piercer Growth Fund!  Feel free to sign up before November 14th for a chance to become our November winner!
What We've Worked On This Month 
Restock
We restocked all of our bestsellers and our basics.  Shop our restocked styles here: https://junipurrjewelry.com/collections/restocked 
Swarovski Update
As you are no doubt already aware, Swarovski has made a decision to discontinue their Swarovski crystals product distribution to resellers, this means like most major body jewellery companies, we will no longer be able to purchase Swarovski stones going forward.  Based on this change, we have sourced another product with the same high quality shine and durability as you are used to, however, they will no longer be Swarovski branded.

Starting November 15th 2021, we will begin restocking our products with the new CZ stones. We will be amalgamating our current Swarovski stock with the new stock which means we will have a mix for a short period of time. We stand by our product and the lifetime guarantee we offer is not affected in any way. 

I wanted to ensure you are aware of this change, and the upcoming removal of any Swarovski name from our website, product title and description so it is not a surprise to anyone.
Tips and Tutorials Page
We are very excited to announce the relaunch of our Tips & Tutorials Page. 

We have reorganized our blog posts to serve as an educational resource and tutorial page accessible to all on our website!

Some of the topics we have covered are:
- Jewelry Sales Techniques
- Where to Start with Gold Jewelry
- Threadless Jewelry 101
- Curating Ear Projects
- Establishing an Online Presence and Web store
Etc

We hope that this page is helpful! If you have any blog topics you would like us to cover in the future, please feel free to respond to this email and let me know.

Thank you to our community for helping us to constantly grow and improve.
Junipurr's Piercer Growth Fund
We're excited to announce that Steeve Easley @steeve.easley is our October recipient of our Junipurr's Piercer Growth Fund. 

With this fund, we hope to highlight and assist other aspects of a piercer's growth, professionally and personally.

It's important to remember that being a piercer is so much more than just the technicals and the jewelry, it's being well-rounded and we hope this fund will ignite and aid in the passion to do better and take care of yourself.

If you're interested in applying for Piercer Growth Fund for November, follow this link.  Winner will be announced on November 15th 2021. Good luck!
Checking Your Existing Junipurr Jewelry Pierces
Over the last few months, we have received a few returns due to some pins being too wide or too long.  

This issue was originally identified back in January this year and communicated via our Support Updates page, as well as our Junipurr Wholesale Facebook Forum and our June and September Newsletters. We were able to isolate the fault to a small batch of jewelry produced in November 2020.  This issue has been especially challenging as the incorrect pins are just a fraction wider that they should be, but not so wide that they won't fit all brands. Many of you wouldn't have noticed this issue, as some labret brands accept these pins with no issues at all. 

Due to the precise way our new titanium labrets are made, we expect these slightly thicker pins will not be compatible. If you haven't already, could you please check your Junipurr collection to ensure your stock does not contain any of the impacted pieces? If it does, please submit a return request to have them returned for a replacement or a store credit.  As always, we credit your account for any postage costs spent on the return. Thank you in advance for your patience and support.
What's Next?
Titanium Launch in Europe - November 5th 2021
Titanium Threadless Labrets are a staple item for any piercer who uses threadless ends.

No matter how beautiful your jewelry selection is, how prestige of a studio you have, or how talented of a piercer you are, you will always need to rely on having a wide selection of high quality titanium labrets at your disposal to do 90% of your business.

After launching Junipurr and creating a wide variety of gold ends, we quickly realized that many of our clients were having trouble finding verified, reliable, and quickly available titanium labret posts. This was especially challenging for our clients in the UK and Europe.

Earlier in the year we sent out a survey and based on your feedback we learned that the next big step we needed to take as a company was developing a verified titanium labret post.

We are excited to announce that on November 5th 2021 we will be launching our already APP approved titanium labret posts in the UK and Europe.

These posts will also be available worldwide shortly after.

We are extremely excited to make Verified Titanium Accessible.

Thank you to our Junipurr community for inspiring and motivating us constantly.
New Designs
We have added our Coming Soon designs here.  We are excited to launch a Junipurr Mini collection in November!  Feel free to subscribe to them on our Coming Soon page so you will get an email notification when they become available, in November.
Thank you for your continued support everyone.  I would love to hear from you so email me or IG DM me anytime!   Until then, stay safe, healthy and take care of each other!