Reintroducing: Junipurr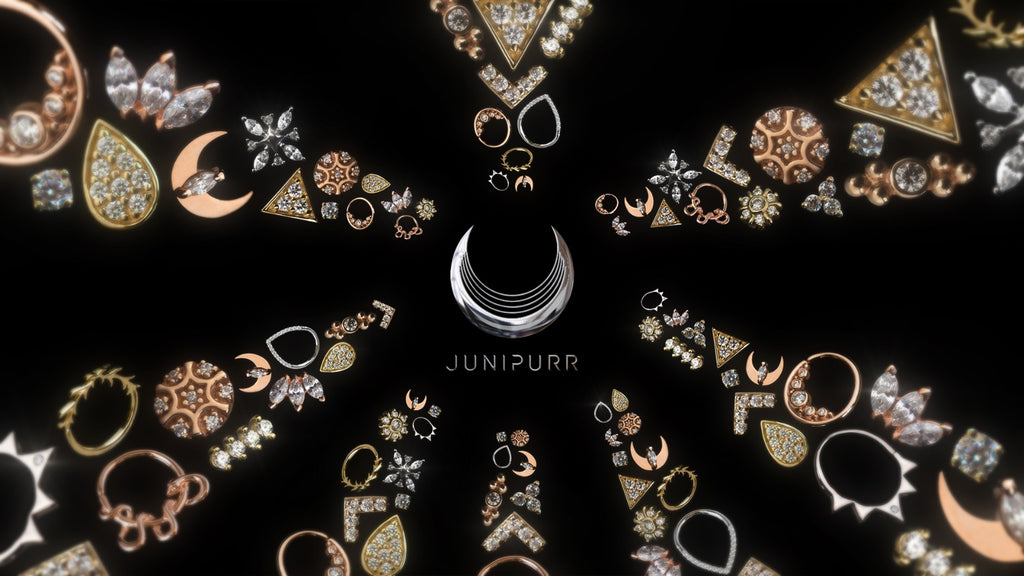 We are so excited to share our new look with you, on Junipurr's first birthday!

We decided to embark on a rebranding journey to ensure our updated brand visuals mirror our belief that growth comes from constant improvements. We wanted to make sure our brand reflects our mission and our core values: Making Quality Gold Body Jewelry Accessible to Good Piercers around the World.
Why Rebrand?
Since we launched in Feb 2020, we have released over 100 new designs, became a APP Corporate Sponsor, built a Pro Team of piercers from all over the world, launched an Android and iOS App along with a Curation Tool to make shopping easier, launched a Covid Relief campaign to help our piercers get back to their feet, launched our BLM inspired pieces to help raise money for the Black Lives Matter Global Fund and Campaign Zero, and became a climate positive company by starting a Junipurr forest in partnership with Ecologi.  
Over the past year we have gotten to know ourselves better as a brand.  We now have a deeper understanding of our values, goals, and practices. We have evolved and grown thanks to everyone who took the time to share your feedback with us over the past year, your piercing expertise is invaluable to us.  This has not only helped us reflect on our goals as a company, but has helped mold us into the brand we have become. 
Today, we celebrate our rebrand with all of our past milestones, as we continue on our pursuit of growth.  Thank you for giving us an opportunity to improve, and inspiring us to be better every day.   
The New Logo
Our refined logo builds on our previous one, this was a conscious effort to preserve our DNA.  Much like our business today, the new logo shows maturation.  All of this was done to convey progress and growth, a celebration of this year's efforts. 
The New Colour Palette
Our refined and matured colour palette also builds on our previous one.
Our Refined Brand Personality:
We want to share our refreshed brand personality with 4 main characteristics which we will be making as gold ends. 
Elegance:
Elegance represents the aesthetic goal of the brand.  Junipurr strives for quality and beauty, for all unique individuals.  Junipurr designs luxury, without the inflated price tag, making gold accessible to all.
Reimagining:
Reimagining represents innovating both the front and back end of the business.  Providing customers with the best possible experience before, during and after the buying process, in their interaction with us via social media, website, app, and customer support.  Being a brand of the people, while also perfecting our wholesale strategy.
Utopian:
Utopian represents the atmosphere that will be aesthetically built within the brand, through its jewelry designs, art, curations, and marketing content.  The fantasy world of Junipurr is a futuristic utopia, referencing timeless elements of beauty inspired by its community and by nature.
Community:
Community represents the collective nature of Junipurr.  Being a transparent brand which puts its community at the forefront of its mission.  Focusing on realness and authenticity, Junipurr puts passion and care into each product, knowing the faces and places behind each purchase.
Our Mission
We believe offering amazing products is just the beginning, it must be coupled with an exceptional client experience before, during and after the buying process.   The business of selling gold isn't only about the product. It's about accessibility, pricing, assisted marketing, better tools, helping our clients with their pain points, supporting each other, growing together, and the main thing is, we must worry about a piercer's business as much as we worry about our own. 
Our mission continues to be to make quality gold body jewelry accessible to piercers around the world.   We found there were a few common problems with buying quality gold body jewelry: They take a long time to arrive and they are a bit cost prohibitive.  Thus, our mission is a simple one.   We want to offer well designed, well manufactured gold body jewelry with best in class pricing with fast shipping.  
Along with our rebranding, we have also been working on new product offerings and app features.  We now have a Curation Tool that allows you to visualize how your client's body part will look before placing an order with just one click! 
Today, we celebrate where we are now and we look forward with great eagerness and hope at what we can evolve to be tomorrow.  We hope to build a jewelry company that we can all be proud of - one that cares deeply about its people and community, and one that remains true to its core as if every day is its first.  
We are so grateful for all of you.  Thank you for your trust and support since Day one.  You can access our new logos in Our Media Kit (you need to be logged on to access it).