Make it a September to Remember!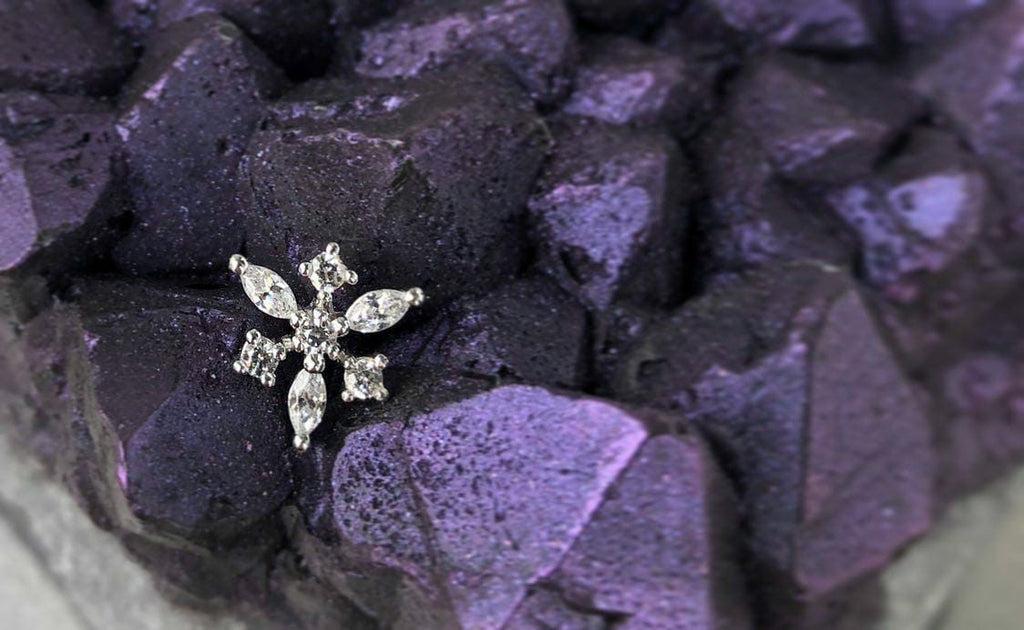 Welcome September!
I hope you all enjoyed your summer! We got to spend a lot of time outdoors with our kids. Charlotte learned how to ride a bike (with training wheels) and Jax started to walk, in fact run! From a Junipurr perspective, we have been busy developing new designs that you have previously voted for, and are super happy to launch 27 new products to you this month! They are all available for sale under our New Arrivals page! This has certainly been a tough year for our industry so we decided to forgo our monies and extended our price freeze until August 31st, we hope you got a chance to take advantage of that. Covid reminds us that we are all in this together, we have to help each other to survive and dare we hope - thrive.
Thank you @hexxus_studios for a gorgeous picture of our Anna snowflake in white gold.
What we've worked on this month:
RESTOCKED!
In case you missed our IG post or email, we have RESTOCKED some of your FAVOURITE items! This includes our pineapple, chevrons, skull crossbone, dog paw, flower, tri-beads, lightning bolt, puzzle, deathly hallow, feather, moon, pear opal millgrain, triple marquise and star! Check them out on our restocked page!
Getting Started with Threadless Body Jewelry
A few of you have messaged me on IG about how to use threadless jewelry. I am happy to share a quick video from one of our Junipurr Pro Team members, Luis Garcia explaining how exactly threadless ends from Junipurr work, and how to insert them into any size post! Check it out here - Getting Started with Threadless Body Jewelry
Junipurr's Code of Conduct
On August 6th, we implemented Junipurr's Code of Conduct on our website. Thank you to those who have provided their email acknowledgement. For those who have not, please review and provide me your acknowledgement via email asap.
Doing things the right way is one of our most important values at Junipurr Jewelry. We work hard every day to make high quality gold body jewelry accessible to safe and professional piercers. We hope this enhances the lives of piercers in our community, our country, and all over the world. To be clear about what we mean when we talk about doing things right; not only does that mean that we provide products that are beautifully made, fairly priced and of exceptional quality, but it also means that every step we take in making those products is taken with ethics and integrity in mind. We source material only from suppliers who have proven positive human rights records, we ensure our supply chain is of the highest integrity and robustly monitor our entire operation for compliance with our code of conduct. Doing things right is not optional at Junipurr Jewelry. Working with us means making a commitment to upholding our company's values and following the code of conduct outlined in this document. We as a company, would like to thank you for upholding our values and helping us to be the best company we can be.
New Products!
We launched 27 new designs this month. You can shop for them under our New Arrivals. Our daughter Charlotte inspired us to design 2 gold snowflake pieces representing Elsa and Anna in her favourite movie Frozen. We also launched our 2 BLM inspired pieces - BLM Heart and BLM Square, which features pitch black Cubic Zirconias wrapped in solid gold setting in a heart and square bezel. All profits from the sales of these pieces will go to Black Lives Matter Global Fund and Campaign Zero. We can't wait to see your pierced pics of all of them!
Our Website in Dutch, Spanish and French
We received feedback from some of you regarding having our website in your language. So this month, we have released our website in Dutch, Spanish and French! We hope this helps in your shopping experience. If you feel the website is not translated properly, do drop me an email. I'm all ears and am happy to change it!
What's next?
New Designs!
Thank you for all the love for our new designs. We can't wait to launch another 8 new designs to you in September!
Junipurr Branded Stuff
By now you should have seen our Junipurr wands on our new Accessories page. We are planning to launch a few more exciting products this month!!!! From beanies, to branded displays, name displays, to stickers, patches and pins! Stay tuned friends!!
Thank you for your continued support everyone. I would love to hear from you so email me or IG DM me anytime! Until then, stay safe, healthy and take care of each other! ❤❤❤