Junipurr Journal: September 2022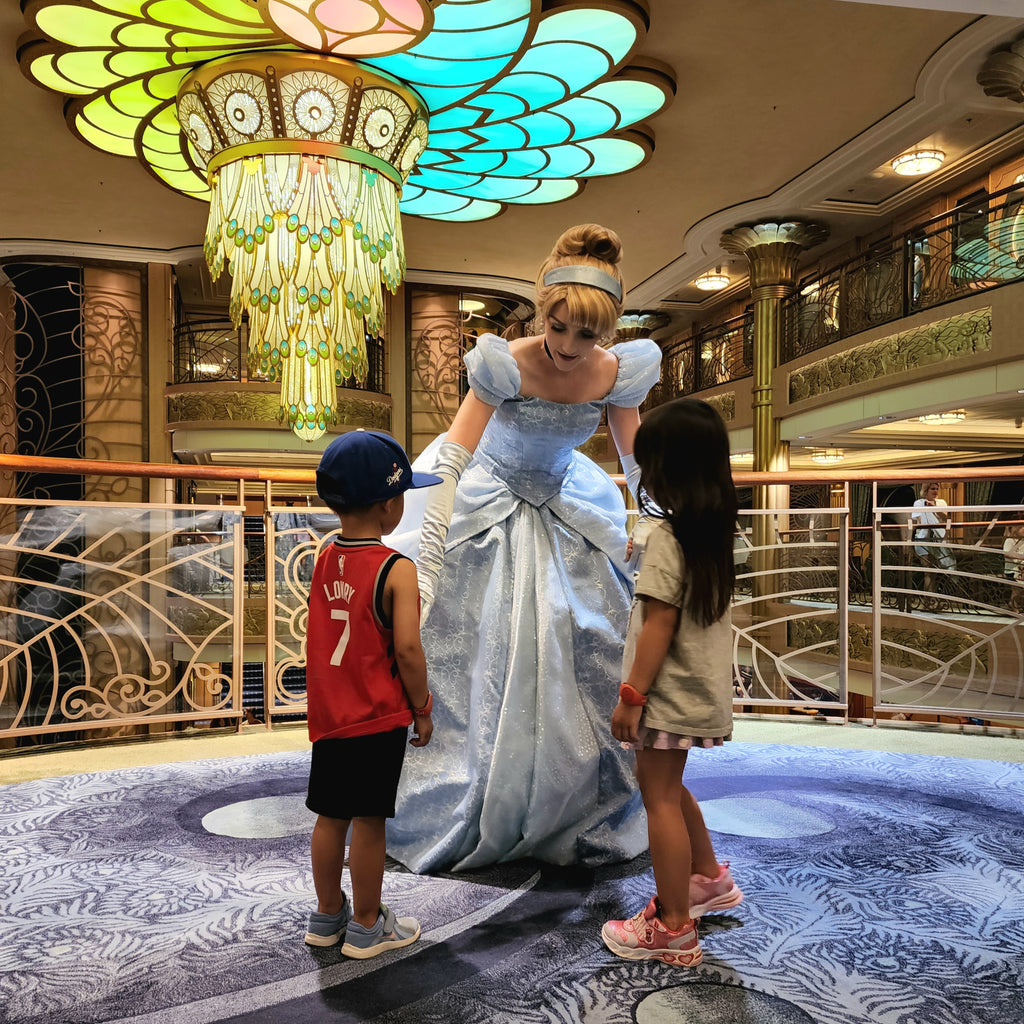 Dear Junipurr Family,

Can't believe summer is coming to an end. I hope you all had a wonderful August. I'm grateful to have spent the last week of August with my family on a Disney Cruise. Charlotte celebrated her 3rd birthday on the Disney Wonder 3 years ago and I really wanted Jax to experience it now that he has turned 3. It was truly a magical experience and we've made memories that will last us a lifetime 😊.
From a Junipurr perspective, we've had one busy month! We started a Let's Talk Mental Health Series featuring our very own pro team member Vishal Rambharose. We believe it's important to talk about this as improving your mental health makes you more resilient to stress, can improve thinking, and decision-making, and help you build stronger relationships with your clients - ultimately leading to a better version of you and your business.

We've issued our annual refresh of our Code of Conduct which we're asking for your acknowledgement by Sept 8th, 2022. Thank you to those who have already responded. We launched 13 new designs and a major restock at both of our fulfillment centers. We featured 3 of our Pro Team Members as part of National Black Business Month. We also launched a bulk discount campaign to receive a credit of $100 USD when spending over $1,200 USD. Lastly, a big congratulations to Helen Trigg for being our Piercer Growth Fund August Winner!
What We Accomplished
Let's Talk Mental Health Series
Let's Talk Mental Health: A series – featuring our ProTeam Member: Vishal Rambharose.⁠
⁠
Part 1:
In this episode of #letstalkmentalhealth, Vishal puts himself in the hot-seat and discusses his relationship with his mental illness while taking you through a little bit of his personal journey.⁠
⁠
Thank you for joining the conversation, supporting those who live with mental illness and learning about their real life experiences on our #letstalkmental health series.⁠
⁠
#FunFact: Vishal started piercing in 2017 and currently runs the piercing section of Pure Pain Parlour in Simcoe, Ontario.⁠

Watch Part 1
P️art 2:
In this episode of #letstalkmentalhealth, Vishal talks about when he sought help with his mental illness and how opening up and seeking that help, changed his everyday life. ⁠
⁠
"Just because no one else can heal or do your inner work for you, doesn't mean you can, should or need to do it alone" -Lisa Olivera⁠
⁠
Never forget – you are not alone. 🖤

Watch Part 2
Annual Refresh of our Code of Conduct:
It's been a year since we have asked for your acknowledgement of our Code of Conduct. Please take a moment to review and acknowledge our Code of Conduct as part of our annual refresh. Let us know if you agree to it by September 8th, 2022 to keep your Junipurr account open. Thank you.

Agree to Code of Conduct
New Arrivals & Restock!
We are so excited to have launched 13 new designs this month worldwide! Ria is my personal favorite and I've been getting so many compliments for it! :)

Shop New Arrivals
We also did a major restock last month. In case you missed it, you can shop all of our restocked favorites here:

Shop Restocked
National Black Business Month:
#NationalBlackBusinessMonth here at Junipurr, and to celebrate Black-owned businesses is to empower more people from the African-American communities to dream big and begin their own entrepreneurial journeys, and we love the empowerment that brings us one step closer to achieving equity.⁠
⁠
We are happy to feature 3 of our black small business owners who are also on our Junipurr Pro Team:
Meet Deron, aka Tenn – owner of Black Jade Studio and our Junipurr Pro Team Member.⁠
"I love being a piercer and everything that comes with it. I love providing my clients with beautiful, fine jewelry and seeing the smiles on their faces"
If you're in the South Florida area and want to get pierced, check out Black Jade Studio!🌴⁠
Meet Taki Edwards – Piercer at Platinum Koi Tattoo Studio and our Junipurr Pro Team Member 🙌
"I love to read, snuggle with my dog, and adore Italian cuisine. I have been a Registered Nurse since 2002, and Body Piercer since 2015. By day, I am an ICU nurse, and by night I am a Body Piercer at Platinum Koi Tattoo Studio in Huntsville, Alabama. I take great pride in my work. My client's safety and comfort is my top priority."⁠
If you're in Huntsville, Alabama – pop in and get pierced by Taki! 🖤⁠
Meet Shwayze @shwayzexvx – Piercer from Southern California at Superfly Tattoo (San Diego) & Empire Tattoo (Fontana, CA) as well as a member of the Junipurr Pro Team! 🙌
"My love for piercing has led me to actively seek further education whether its conference or Ryan's amazing seminars, I am a strong believer of learning forever!⁠
⁠
When I'm not piercing I can be found making music, taking care of my pets, eating a ton of vegan food, taking night trips to the beach and craving orange juice. Stay safe, keep piercing sacred."⁠
If you're in the California area – pop into Superfly Tattoo or Empire Tattoo and get pierced by Shwayze! 🖤
Piercer Growth Fund:
We're excited to announce that Helen Trigg is our August recipient of our Junipurr's Piercer Growth Fund. 🌙

It's important to remember that being a piercer is so much more than just the technicals and the jewelry, it's being well-rounded and we hope this fund will ignite and aid in the passion to do better and take care of yourself.
I'm currently going through a really tough time with the fear of what the energy price increases are going to do to me as a business so I honestly cannot thank you enough for this right now, it's really given me the little boost I needed. Here's the blurb…

'I am so thankful for the opportunity that Junipurr is giving me with this month's Piercer Growth Fund. It's a tough time for all small businesses out there at the moment and these funds will help me to continue to strive to offer the best quality jewellery and service for my clients. I can use these funds to promote my business further and to continue my monthly subscription to online education with the industry's finest. In turn, I hope that my growing knowledge about the importance of safe piercing and high quality jewellery can then be passed onto others through the increase of my online presence.

I feel so blessed to be a stockist for such beautiful jewellery from Junipurr and to be part of such a wonderful industry.'

- Helen Trigg
If you're interested in applying for Piercer Growth Fund for September, follow the link below. The winner will be announced on September 15th. Good luck!
What's Next?
Volume discount
We loved hearing how many of you enjoyed the volume discount we offered in August so we decided to plan a new one for September! Keep an eye on our Instagram and your inbox to not miss this upcoming offer.

Follow @junipurrjewelry.
Back to School
It's that time of the year when many of your clients are looking for a refresh on their looks for school and work, so we have content and resources planned to help you make the best out of this season! Starting with the win-win giveaway. Tell your clients and join today!
Quick add to cart
We're constantly working on making our online store better and faster so you can have the best experience shopping. On the roadmap for September is a quick add feature so you can quickly add products to your cart without going too much back and forth pages.

If you have any suggestions on how to improve your shopping experience send an email to Rafa, our growth manager. He'll love to chat with you!

Give feedback
(BETA) Junipurr Subscriptions
You asked and we heard you! We'll launch a beta version of a subscription feature in September while we work on a full model. Keep an eye on updates via Instagram and email!

Thank you for your continued support! I would love to hear from you so email me or IG DM me anytime! Until then, stay safe, healthy and take care of each other! ❤