Junipurr Journal: February 2022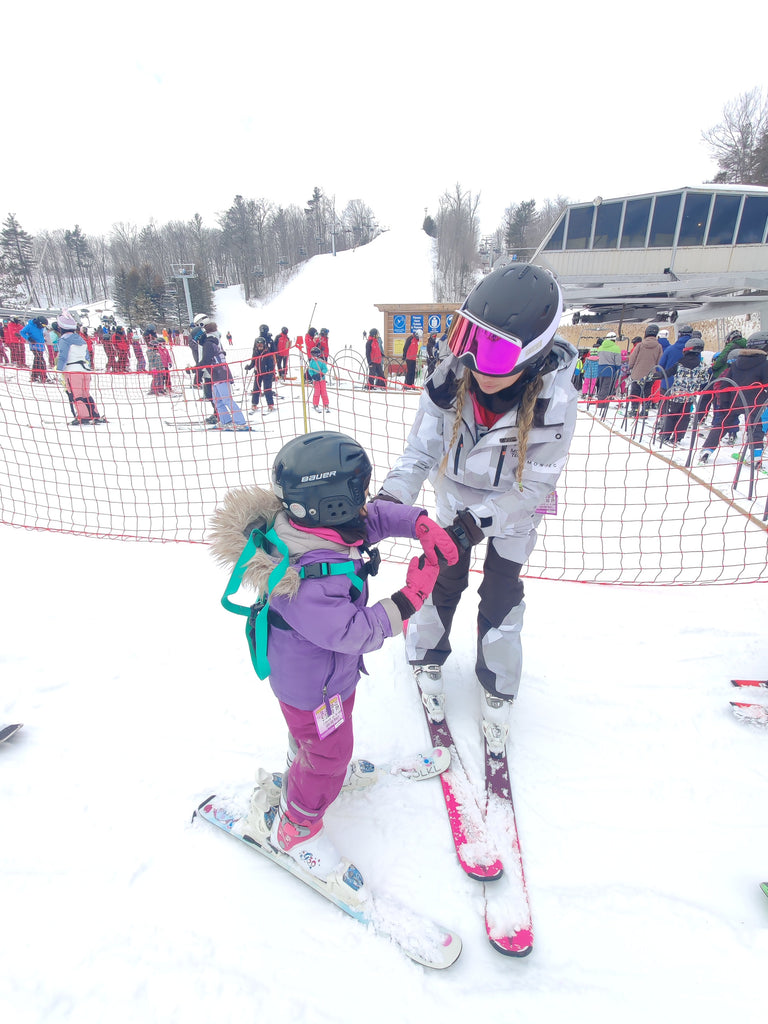 Dear Junipurr Family,
I hope you had a great first month of 2022!  Lots of snowfalls in Canada this time of year, so I decided to take skiing lessons with Charlotte.  So thankful for this special time I get to spend with my fearless girl!  I just learned how to take her on and off the ski lift. This is us this past weekend at Lakeridge Ski Resort:
From a Junipurr perspective, we launched 2 Titanium Giveaways.  Thank you to those who participated!  We are loving all the creative submissions we received for our Post Your Post campaign - Kind reminder our titanium posts are currently priced at $3 USD for a limited time until February 10, 2022. 
Congratulations to  Harmony Mafield for being our winner of our Titanium Guess the Price giveaway. 

We also launched our threadless and threaded Tapers, along with a number of Themed Collections such as Every day is Halloween, Animal Kingdom, and Chains to help make it easier for you to shop under these themes. 
A big congratulations to Codi Canasa for being our January Piercer Growth Fund Winner!  Feel free to sign up before February 14th for a chance to become our February's winner!  We also ended January with 2,950 trees in our Junipurr Forest.  Thank you to everyone who has contributed to this!
What we've worked on this month:
Post Your Post
With the worldwide launch of our Titanium Posts finally live, we hosted a giveaway requesting for submissions of a reflection of yourselves, your pet, or whatever you like in our post reflection.  
We created our posts as a solution to make APP-Approved, Verified Titanium more Accessible, Worldwide. We are also shipping our posts the next business day to ensure our client's can avoid extended shipping times.
Congratulations to Zoe Stevens from Brazen Body Piercing on being the winner of our Post Your Post giveaway! Here are a few of our favourite submissions:
New Design Launch : Chest Piece
We launched a very much anticipated design this month!  Chest Piece - One of a kind and as cool as they come!
The chest piece is a breathtaking hand-crafted 7mm x 6mm rib cage with a solid 14k heart.
It comes in 3 different colours:
Yellow Ribcage with White Gold Heart
White Ribcage with Yellow Gold Heart
White Ribcage with Rose Gold Heart
Junipurr's Piercer Growth Fund
We're excited to announce that Codi Canasa is our January recipient of our Junipurr's Piercer Growth Fund. 
With this fund, we hope to highlight and assist other aspects of a piercer's growth, professionally and personally.
It's important to remember that being a piercer is so much more than just the technicals and the jewelry, it's being well-rounded and we hope this fund will ignite and aid in the passion to do better and take care of yourself.
If you're interested in applying for Piercer Growth Fund for February, follow this link.  The winner will be announced on February 15th, 2022. Good luck!
Themed Collections
We have sorted our jewelry into shoppable collections to make placing orders, and finding specific pieces a little easier.
You can find these collections under the "Shop" tab of our website!  
What is your favourite Junipurr collection? We might have to go with Halloween... but we could be a little biased!
What's Next?
Lookbook Vol. 2 Submissions
The Junipurr Lookbook Volume 1 was a hit thanks to all of you who had submitted your beautiful photos with our jewelry.  We will be launching our Lookbook Volume 2 submissions in a few weeks, please look out for more details via email/ IG!  
24 Hr Flash Sale Via Junipurr Jewelry App
We will be launching a 24 hour Flash Sale weekly via our Junipurr Jewelry App. 
Please download our app if you haven't already, to receive these weekly flash sale push notifications from our app.  These flash sales will last for 24 hours each time!