Give Your Piercing Clients Quality Jewelry with #JunipurrGold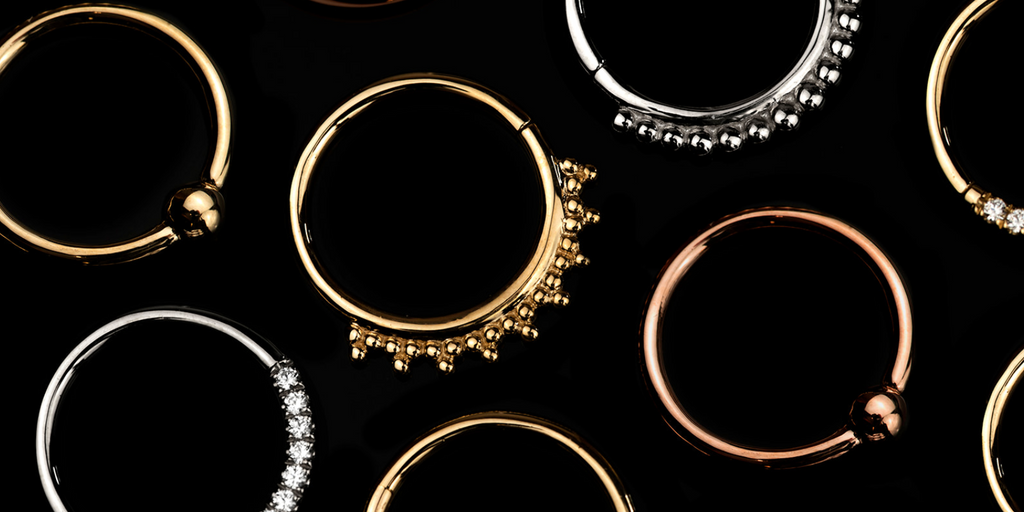 It's no secret that gold is the preferred metal when it comes to high quality, and high profit margins in the piercing world. But let's be real, taking the plunge into gold body jewelry can be a bit scary!  That is why we launched our #JunipurrGold initiative.  
During the month of January we asked our existing clients to share their first time experiences buying gold jewelry.  We were thrilled with how many of our clients got vulnerable with us surrounding the anxieties they experienced before taking the plunge into stocking gold jewelry. 
Today we want to touch on the pros of offering your piercing clients gold jewelry options, as well as address a few concerns you may have regarding your first time ordering gold jewelry from Junipurr. 
Start with client feedback
When speaking with a few of our current stockists, many of them noted that one of the main concerns they had when placing their first order was "Will my clients buy gold?".
This is a great question, and a completely valid concern.  Before placing any order, you should always consider if there is a desire for the product.  
A great way to determine this is doing a little bit of market research.  We recommend taking a look at what your clients spend on average on jewelry.  
Do you have clients who are looking for more decorative options? Do you have clients with multiple piercings who are looking to curate a cohesive look with their jewelry? Are there other shops in your area that offer gold jewelry? And have any of your current clients expressed interest in wanting yellow, white or rose gold options?!
A great way to gage interest regarding gold jewelry is starting a conversation with your clients about it on social media.  Try out some Instagram polls on your stories to see what your clients want!  There is no harm in asking for feedback, and this will allow you to really see your clients wants and needs when it comes to jewelry selection. 
If you're still stuck on what pieces to order, or are not able to conduct some research with your customers, no worries!  We have curated "The A Team Collection" which is a bundle that you can order with confidence. 
The A Team Collection consists of our best sellers, including a wide range of designs, and pieces available in rose gold, white gold and yellow gold.  Think of The A Team as a starter pack for gold jewelry.  This collection consists of 5 seasons that appeal to many different budgets!
Invest in bigger returns for your business
With gold, the more you invest, the more potential you have to make.  Gold jewelry allows for larger profit margins because the metal itself holds a higher value. This means you will be able to reinvest more back into your business!  When it comes to stocking gold jewelry, many of our clients feel as though the risk is absolutely worth the reward.
Expand your clientele
Although implant grade titanium is a high quality and price conscious option, you will have clients who desire a more mainstream fashion look. This is where having gold jewelry options can fill the gap!

  Being able to offer the highest quality metal, along with beautiful and intricate designs will likely attract a new group of clients.  These clients may also have a different budget when it comes to what they want to spend at your studio.  This will not only help your profit margins, but will also allow you or your piercers to expand their portfolio!
Enjoy a Lifetime Warranty
One of the huge benefits when buying Junipurr Gold is that you're also getting a lifetime warranty.  Our warranty allows our clients to place orders with minimal risk, and lets our clients know that we stand behind the quality of our pieces.  If you find any issues, get in contact with us and we will make things right.
Fast Shipping
Shipping times is a hurdle many piercers face when it comes to planning orders.  At Junipurr we understand how frustrating it can be waiting months for a jewelry shipment to arrive, especially when your business depends on it.  That is why we do our best to have streamlined communication with our customers, fast fulfillment times, and quick shipping!
  
No Minimum Order Amount 
At Junipurr our main goal is to make gold accessible.  We want to make high quality jewelry, with intricate and unique designs obtainable for all of our clients. If you're feeling anxious about incorporating gold jewelry into your studio, start small!
We realize that placing a large order can become an overwhelming financial burden for many people, which is why we operate with a no minimum order amount policy.  We don't want our clients to feel as though they need to expand their budgets to work with Junipurr. 
So, what's stopping you from placing your first gold order? Sign up for a Junipurr Jewelry account by clicking here, and let's go for #junipurrgold. If you have any further questions about signing up with Junipurr, we are always ready to talk.  Don't be afraid to reach out and ask any questions!
---