Getting Started with Threadless Body Jewelry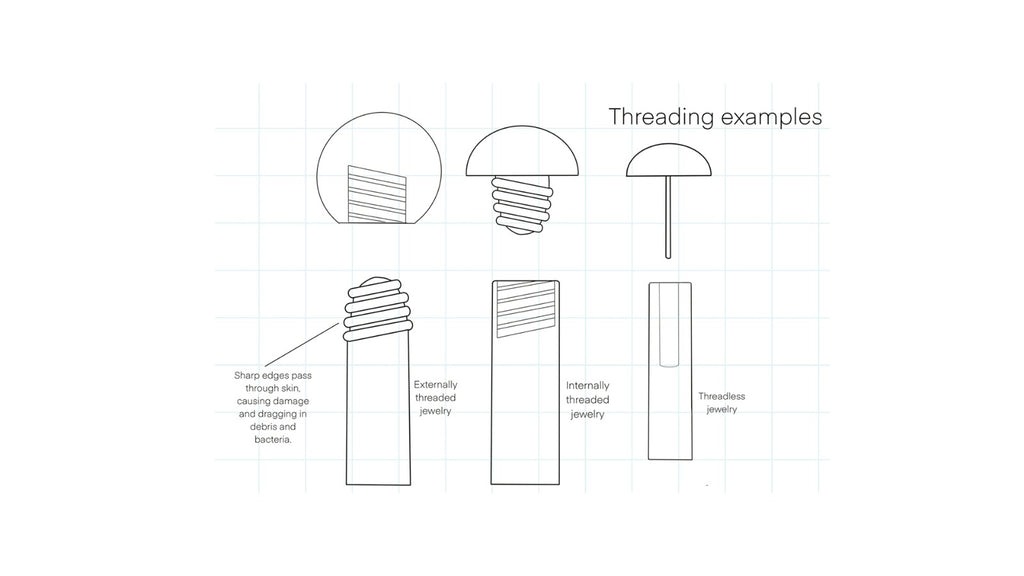 Making the switch to threadless jewelry benefits both your clients and your studio! In this blog post, we will touch on what "threads" are, the different types of threading, as well as the different materials that are available when it comes to threaded and threadless body jewelry.
External threads
Externally threaded jewelry has been around for a very long time, it's the most common type of jewelry on the market and is readily available and cheaply priced. This type of jewelry is often made from steel, plastic or an unknown base metal plated with heavily alloyed (diluted) gold. This type of jewelry is considered low quality and professional piercing organizations usually recommend it be avoided.
The reason for this is as follows:
Threads
External threads are spiral markings on the end of the post, these come in direct contact with the client, these are often sharp, jagged and usually unpolished which means the surface is covered in micro pores and scratches that can harbour harmful bacteria and create micro tears and scratches inside the piercing.
Polish
To allow your body a sufficiently smooth surface to heal against, the polish has to be mirror smooth so that the surface is free of pores, scratches or dents. Even the tiniest imperfection can ruin a perfect piercing by causing a sandpaper effect to the wound site. A poor surface finish causes irritation and can scratch at the inside of the fistula, this can delay healing or prevent it all together as well as cause excessive fluid build up and even promote excess tissue growth around the outside of the piercing.
Material
Usually, externally threaded jewelry is made from 316L steel this is often referred to as "surgical steel" because it's used in the manufacture of surgical instruments such as clamps and scissors. It's important to note 316l is neither implant grade nor nickel free and widely regarded as not suitable for initial use in a piercing. Commonly external thread jewelry can even be a mixture of mystery metals that can't be identified.
Internally threaded jewelry
Internally threaded jewelry does not have any visible threading on the shaft that passes through the piercing channel. This allows for jewelry to be gently inserted in both fresh and healed piercings with much less risk of tissue damage on insertion.
Although internally threaded is a much better option than externally threaded jewelry, you should still pay attention to both the polish and the material to make sure it meets implant grade safety standards. We recommend using an APP approved vender.
Implant grade is a type of jewelry that ticks a number of boxes. Broadly speaking it refers to the alloy, quality of finish and construction as well as the manufacturing process of the metal. Jewelry made from ASTM F-136 titanium is considered implant grade, as long as the polish also is mirror-smooth. A mill certificate from the jewelry company should show its ASTM grade. It's worth noting that you should always cross-reference these certificates provided with organizations like the Association of professional piercers to ensure they check out, it's very common for certification to be counterfeit or just not check out. The APP will confirm whether the certification is real.
Threadless Jewelry
Threadless jewelry is considered to be one of the most secure and easiest types of jewelry to use and wear. No threads at all make this style safe for insertion and with proper use, less likely to come apart and therefore become lost.
Each threadless attachment has a straight pin on the back, the piercer then creates a small bend in the pin, this then causes the pin to lock into place when it's pressed into the threadless labret or barbell shaft. Our latest jewelry lines and all jewelry moving forward, have pins that are prebent. It's worth checking every pierce for fit though as a matter of course.
What makes threadless jewelry unique is that it's not gauge specific.
For example, if a client has a 16g threaded piece it will fit on a 16g threaded post, but not a 14g, leaving them more limited to where they can wear each item they purchase and in the worst case, unable to use it.
A single threadless attachment will fit universally into a 18g, 16g, 14g and 12g threadless labret or barbells.
The simple press to close, pull to open fitting, makes the jewelry changing process a lot easier for clients and piercers, in most cases, it also reduces tool use so whether it's less clean up time at the end of the day, or less cost / environmental impact from less tool usage, it's a win-win.
Other advantages include it being easier to display and managing stock holding more effectively as every front fits virtually every back. No more worrying you only have it in one gauge.
Like with any jewelry, you must still make sure the polish and the metals meet requirements. Correct materials with poor polish are just as bad as the wrong materials with excellent polish. Using a jewelry company that are corporate members of organizations like the APP, is a great way to ensure you minimize the risk of trying a companies jewelry as the membership requirements are based around quality and jewelry being to an industry standard.
Piercing with Threadless Jewelry
Piercing with threadless jewelry can gel seamlessly with tool based piercing, freehand piercing and/or disposable piercing. The switch really isn't hard.
Make sure you test the pin strength BEFORE fitting. That means making a small bend in the pin, then try taking it in and out of a post to test the tension and make sure it's not too tight or too loose. As above some companies like Junipurr, now prebent their pins, you should still however check it and adjust it accordingly.
It's easy to damage a pin by over bending a pin and may cause the pin to snap. Bend gently, test, and bend further if necessary. You may find it helpful to support the pin with a small pair of pliers or hemostats when bending.
Remember that different brands use different materials for their pins, so familiarise yourself with each one. Junipurr's pins have been specifically designed for heightened strength and durability and come with a lifetime guarantee, but proper handling should still be practised at all times.
Here is a quick video from one of our Junipurr Pro Team Luis Garcia explaining how exactly threadless ends from Junipurr work, and how to insert them into any size post!
We've added some graphics to help demonstrate the ways to insert threadless from the brave straight transfer to the more secure taper and disposable options using blanks and transfer pins.
As with many aspects of piercing, there is often a lot of ways to get from point A to B, but we generally suggest our clients who are looking to transition from external to threadless or from internal to threadless, use the method closest to what they use currently. Such as a taper and switch to the threadless version whilst they build up confidence.
Thank you to the multiple contributors who made this blog post possible!
---