7 Things to do to Prepare Your Piercing Studio for The Holiday Season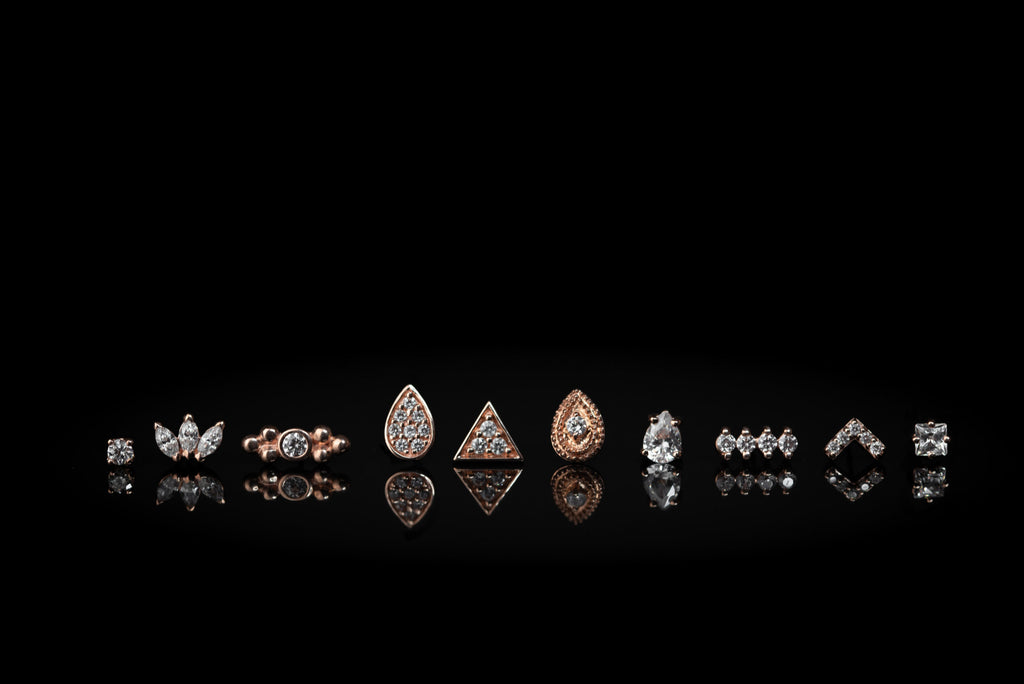 It's no surprise that this holiday season will be a little different from years passed. With the global hit of Covid-19, social distancing laws, and even some temporary closures, this year has been one to remember. With that being said, we are still entering the 4th quarter, which evidently comes with a holiday retail rush.
For some of us this may seem slightly stress inducing, so we have put together a quick list of things to keep in mind when preparing your piercing studio this November!
Check up on your inventory
Having a good understanding of what jewelry you currently have available in your studio is vital when entering a busy time of year. Many people like to do quarterly or even monthly counts of their jewelry, especially if your studio shares inventory for your physical and online sales, or if you have multiple locations.
Doing counts of your inventory is also a great way to see what pieces are selling, and what pieces are not. Having this knowledge will help you when placing your next order to ensure that you have a great selection that your clients will love.
Out with the old, and in with the new
The holiday season not only marks the start of winter, but also the end of the year. This means that this is a great time to move some old stock, and start fresh for the new year! One of the best ways to move SKU's that have been taking up space in your display cabinets for far too long is to either have a sale, or promotion for select pieces.
For example, you may choose to participate in a Black Friday or Pre-holiday sale, discounting seasonal pieces, or "summery" pieces that you don't see being as popular in the winter months.
Once you have worked through some of your older pieces you will have room to stock some more new and exciting pieces. These can include new colourways, winter appropriate designs, or restocking some of your tried and true pieces! Having new pieces in your studio will offer a reason for your clients to come in and get excited about new jewelry possibilities, so make sure to post about your new arrivals on social media!
The holidays can result in many customers shopping for people other than themselves. We have noticed a trend of more people buying pairs of earrings for lobes, as they are a more universal piercing to shop for. Because of this more clients will be looking for pairs or matching sets. You should keep this in mind when ordering your stock, and consider doubling up on your studio's more popular designs.
Refresh your displays
Having attractive displays are a great way to get your clients attention, and can be a big part of selling your jewelry! We always suggest changing up your displays from time to time, and the holiday season is a great excuse to do so!
Visual merchandising can be a great creative outlet for some people, but others may struggle with where to start. Pinterest is a great place to get visual merchandising inspiration, as well as checking out your favourite piercing studios on instagram.
You can organize your jewelry based on price point, brand, gold colour, stones, decorative ends vs rings etc. There is no "right way" to make a display, but making sure it is well lit, not overly busy, and accessible to your clients is always a must.
Check out some examples below of displays we are currently loving!
Check in with your team
As we stated above, the holiday season can be stressful. Having clear communication amongst team members can help to ease the anxieties associated with a busier work schedule.
We suggest having a group meeting or zoom call with your staff and give a refresher of your piercing shop's expectations. Make sure you educate your team on any new products you're bringing in so that they can assist your clients in finding the perfect pieces!
Your staff may also have some awesome ideas about holiday promotions, charity work, or activities you can participate in as a group during this time of year. A group call or meeting is a great time to encourage your team to speak up if they have questions or concerns regarding the holiday season at your piercing studio. Sometimes with more appointments things can fall through the cracks, and it's important that you carve out time to check in and make sure everyone is on the same page.
Lastly, make sure to be mindful of your team's mental health and morale. The holidays can be a tough time of year for many, and as we round out 2020 some people may be feeling a little burnt out. Making sure your peers know that they can ask for help can be a small but incredibly important gesture!
Update your online store
If anything, 2020 has taught us that online sales are an incredibly important part of having a business, especially if you are in an area that could potentially close down again due to rising Covid numbers.
If you don't already have an online component to your studio, now may be the time to look into that. If you'd like more information on where to start when putting your business online, check out this blog post we published earlier this year!
For those of you who already have an online store, the holidays are a great time to give it a bit of a facelift. Doing things like changing up the photography on your home page, or adding a "holiday jewelry essentials" collection can be a great way to get your clients thinking about holiday shopping.
Set up gift cards & gift wrap
Gift cards are an excellent option when it comes to helping a client shop for a loved one. As we know, not everyone knows their jewelry sizes, let alone a friend or family member's jewelry sizes/preferences. This is where gift cards can come in handy!
Gift card sales are also a great way to ensure that you will have bookings in the new year, and will help to carry your shop during a typically slower month (January).
On the topic of gifts, some of your clients will be buying jewelry for their loved ones. If this is the case go the added step and make sure you have more formal packaging options available. A nice box or gift bag is a great way to go the extra mile for your clients and leave a great impression.
Ensure you have time for rest
The holiday season is for celebrating after all! We know it can be easy to pull late nights and early mornings while trying your best to accommodate every single order and appointment.
BUT at the same time, giving yourself a well deserved break during the holidays is crucial to coming back in the new year as a better version of yourself.
Don't forget to celebrate your wins during this past year. It would be an understatement to say that 2020 has been challenging, but we are optimistic that 2021 will be the fresh start that many of us have been pining after.
---