10 Tips to Freshen Up Your Body Jewelry Displays For Spring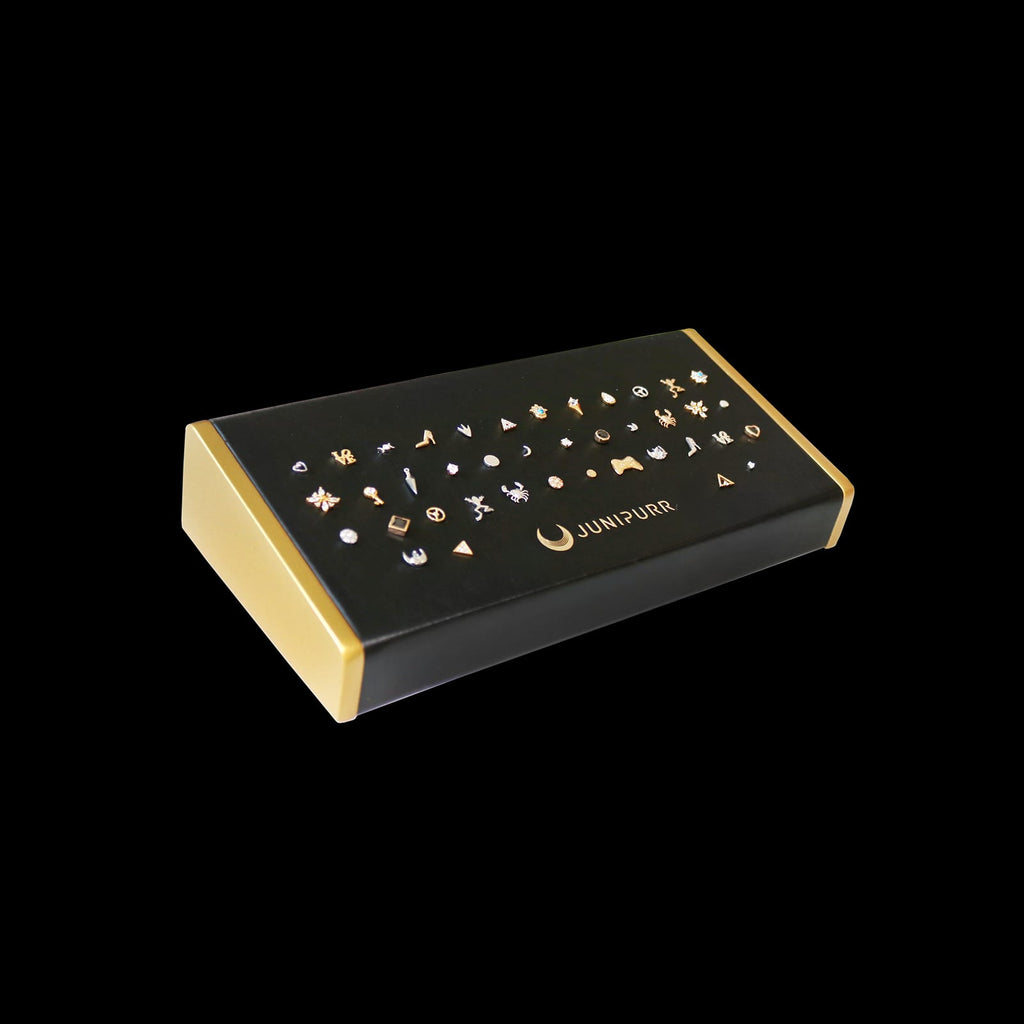 Spring is on the horizon, and with that comes new jewelry trends, different piercings spiking in popularity, new design releases, and colours coming in and out of style.  A well balanced jewelry display featuring timeless classics, new designs, and a wide variety of gold and gem stone colours is the perfect recipe to keep your clients coming back.
Today we want to do a deep dive into what to consider when revamping your body jewelry displays for spring! 
1. Take a look at your past sales year for some insights
Season to season you will likely see new trends when it comes to your client's purchasing habits.  For those of us in areas that experience 4 drastically changing seasons, you may find that you go through more curved barbells in the summer due to the warmer weather and influx of navel piercings!  
This is an example of seasonal changes that may affect your purchasing and ordering habits.  If you notice substantial trends from the past years, take them into consideration when planning your displays and orders for a new season.  If a certain piercing or jewelry style spikes in popularity during the spring, ensure that you tweak your upcoming order! 
2. Place a balanced order of timeless pieces, and statement pieces
When preparing for a new season at your shop, it is important to be able to offer some tried and true pieces, along with a few new statement pieces to keep your recurring clients excited! 
A great way to get inspiration for an upcoming season is social media, Pinterest, branded profiles, or anywhere you would normally find fashion inspiration.  Typically when we move into spring clients become more interested in brighter colours, or designs that reflect the season.  This could mean pastels, designs that incorporate nature, florals, plants, spring/summer holidays etc! 
A good idea to gage interest in gem stone colours is polling your clients on Instagram stories, or Facebook! By gathering feedback from your clients before placing your order, you'll feel more confident in your trend forecasting. 
3. Ensure your displays do your jewelry justice
When planning a display, the main rule of thumb should be that your jewellery should be the focal point, not the display or cabinetry it is inside.
If possible, pick a neutral background colour that your jewelry will pop on when displaying your pieces.  We typically find that beige, white, or black fabric is the least distracting when displaying yellow, rose and white gold. Using a coloured fabric can sometimes cast a saturated hue on the jewellery, and make the gold seem less brilliant, or make it difficult to tell the difference between yellow and rose gold especially! 
If you don't already have displays in your studios, we have multiple options at Junipurr that allow for a clean and minimalist look. You can shop these by clicking here.
4. Time to organize
Your first instinct may be to sort your jewellery by price, because that is a deciding factor for many clients.  Although, this is not always the best option. We don't want to scare away possibilities by offering clients cheapest options immediately. 
The goal in displaying should be to inspire your clients and yourself. Styling should be discussed before price, start high & in tune with their desires and work down if they prefer something more price conscious.
For the most part, in North America we read left to right. This means displays with a flow from left to right are more likely to be appealing to us.  
Place your pieces with purpose, visuals are everything when it comes to jewelry. Make your chevrons point right, for example, to guide your client's eye to the next piece.  
Ensure that you're using the correct displays for the different styles of jewelry you offer.  For example, some rings should be displayed facing different ways depending on where the decorative aspects are.  
If you have any pieces that need to be held in place to show their full potential, consider opting for a display with jewelry holders attached.  These tiny plastic clamps will allow you to hold jewelry in place, without a ring or curved barbell to fall to one side. 
You can shop a Junipurr version here.
6. Consider your lighting 
Lighting can really make or break jewelry! You want your pieces to sparkle and shine to their full potential.  Afterall, you have made amazing selections, and your clients need to see the full potential of their future jewelry!
If you're lacking proper lighting in your studio, consider adding some LEDs inside of your cabinets or displays. There are numerous affordable LED options online that will allow you to change the colour temperature and brightness of your lighting to suit your displays.
5. Accessibility is key
A counter height or wall display may seem like an easy option for most clients, but let's take the next step and consider a wider range of accessibility options. In order to help clients who may use a mobility aid, or may not be at your typical "eye level" consider incorporating a mobile handheld display into your studio. 
A handheld display can be a great tool to allow your clients to get a closer look of a smaller selection of jewelry.  These handheld displays can be kept inside your typical cabinets, but having the ability to remove them for clients to get a closer look can be incredibly helpful! 
This will also allow you to bring large amounts of jewelry to different parts of your shop with different lighting, without having to worry about pieces falling on the ground, or getting damaged. 
7. Give your clients a little inspiration 
A great way to organize your displays is displaying by style. Create mini "curations" in your cases. Pieces that are flattering together, similar shapes, cuts, vibes.  For example, a big trend right now is minimalism. Dedicate a display to pieces that suit that vibe.
 Contrasting colours is also a good way to highlight pieces. Colours on opposite ends of the colour wheel often contrast in unique ways which will help to draw your client's eyes in.
8. When in doubt, take something out
Although it may be tempting to fill every possible inch of your displays, it may not be the best marketing tactic.  Having over crowded displays can make a client feel overwhelmed with possibilities, and may lead to indecisiveness.

If you have large amounts of one item – don't display every single copy of it.  The piece should be displayed once or twice, we want clients to feel like they're getting something unique. This also helps cut down on clutter and improves readability.
9. Get some feedback
When you're done creating your displays, ask someone in the shop to walk by and give you their immediate impressions.  You may not realize that the display is too busy, or maybe there are pieces that don't quite fit.  
Ask them what pieces stand out to them, make mental notes when clients frequently point to a piece/ display.  Ask what draws their eye and work from the feedback. 
10. Let's talk Upkeep  
Make sure your display cases are clean, dusted, and have no fingerprints. Dirty displays can instantly make your jewelry seem less appealing to clients.
The cleanliness of your studio is something to take pride in, and ensuring those displays are shining will pay off!


We hope that a few of these tips have helped you think more critically when finding new and unique ways to display your jewelry.  Remember that your displays are a tool, and can be a great asset when landing a sale and helping your clients to find the perfect piece!
We can't wait to see what all of you come up with! 
---